Gallery

Bonjour, je suis CB-95, vous etes dans ma galerie de fanart. Mes dessins sont parfois fait avec un modèle et parfois sans. Je colorise mes dessins avec "the gimp", et si quelqu'un peu me donner des petits conseils pour faire des meilleurs colos je suis la . j'espère que vous aurez du plaisir a regarder mes dessins. merci .
Chris.Kage's gallery
Profile:
Well its been so long i guess i can say a couple things.... you all can call me chris.kage im in my mid 20s working man ,I liked to draw comics,anime and i mostly working on my own invention other than that i play video-games i speak french and english fluently .....
Website:
www.supafan.net/chris.kage
Fan Art

Goku In Namek
2009-02-22
DBZ

Super Saiyan Vegeta
2009-01-26
DBZ
voici mon super saiyan Vegeta encore sur paint le MS paint commence a etre facile pour moi j'm'assuse tres bien a faire sa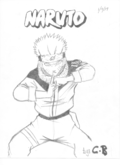 Naruto
2009-01-17
Naruto
this I scan well I did that fast and easy
je sais ce que vous pensee mais j'fait de mon mieu

Goku Ssj
2008-11-21
DBZ
this is goku ssj I did that on paint againt It was a little easy for me to draw this picture

2
2008-11-11
Naruto
celle la je jous un peu avec la mesure avec 200% horizontalement c'est stupid hin??!!!

Goku Ssj3
2008-11-10
DBZ
goku super saiyan 3 encore sur paint
sa me prend peu de temps le colore